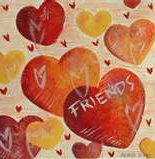 I was given an award by
Wendy
. Thanks girl! We need to do lunch or a playdate sometime!
"These blogs are exceedingly charming. These kind bloggers aim to find and be friends. They are not interested in self- aggrandizement. Our hope is that when the ribbons of these prizes are cut, even more friendships are propagated. Please give more attention to these writers. Deliver this award to eight bloggers who must choose eight more and include this cleverly-written text into the body of their award!"
Here are my 8:
*
Julie @ Multiple Blessings
*
Stacy @ Come Walk With Me...
*
Sam @ The Handmade Dress
*
April @ Waiting With Hope...
*
Rachel @ Following In My Shoes
*
Emily @ Adventures In O'ville
*
Gayle @ Grace For Gayle
*
Cori @ Creatively Cori
I was tagged by a few friends so I found the 6th picture in my 6th folder. It's a picture of Corgan at 1 month old. He was so little!!